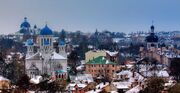 Zastavna (Ukrainian: Заставна) is a town in Chernivtsi Oblast of Ukraine. It is the administrative center of Zastavna Raion. Zastavna is located in 26 km to the north of the city of Chernivtsi.
The first mention in chronicles is dated to 1589.
In November, 1772, Sabbatean haidamacks attacked Zastawna where they burned the town's synagogue with the rabbi in it. This attack alerted the people of Kolomija that the haidamacks were on the move and that Kolomija would likely be a target.