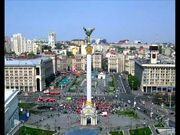 Zaporizhia (Запорі́жжя) (Russian: Zaporozhye [Запоро́жье]) is a city in south-central Ukraine, on the banks of the Dnieper River. It was founded in the 1770s as Alexandrovsk (Александровск) (formally incorporated 1806). The new name, adopted in 1921, translates as "beyond the rapids", referring to a natural phenomenon which was destroyed by dam-building projects in 1932. Population: 770,672 (2013).
Zaporozhye was a German stronghold in occupied Ukraine. In 1947, General Fedor Tolbukhin led a ragtag bunch of guerrillas on a raid on Zaporozhye, killing several Germans, and stealing a substantial amount of ammunition.
It was near German-occupied Zaporozhye that Wehrmacht Field Marshal Erich von Manstein shot Führer Adolf Hitler dead on 19 February 1943, leading to the cessation of hostilities on the Eastern Front.