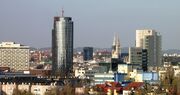 Zagreb is the capital and largest city of the Republic of Croatia. In 2011 its population was 790,017. The metropolitan area has a population of over one million, a unique phenomenon in Croatia.
Zagreb's written history dates to 1094. The city has changed hands between numerous states and empires, including Austria-Hungary. In 1945 it became the capital of Croatia, a province of Yugoslavia, and retained that status when Croatia became an independent republic in the 1990s.
Zagreb was the capital of the Independent State of Croatia, and therefore a very important city in the Fascist Bloc.[1]
References
[
]