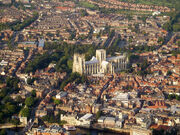 York is a city and unitary authority area in North Yorkshire, England, United Kingdom, with a population of 208,200 as of 2017. Located at the confluence of the Rivers Ouse and Foss, it is the county town of the historic county of Yorkshire. The city is known for its famous historical landmarks such as York Minster and the city walls, as well as a variety of cultural and sporting activities, which makes it a popular tourist destination.
The city was founded by the Romans as Eboracum in 71 AD. It became the capital of the Roman province of Britannia Inferior, and later of the kingdoms of Deira, Northumbria and Jórvík. In the Middle Ages, York grew as a major wool trading centre and became the capital of the northern ecclesiastical province of the Church of England, a role it has retained. In the 19th and 20th centuries, York was a major hub of the railway network, and a confectionery manufacturing centre. During the Second World War, York was bombed less than other northern cities, although several historic buildings were gutted and restoration efforts continued into the 1960s. In 2000, York suffered very severe flooding as the River Ouse rose, affecting over 300 homes.
In 1991, archaeologists at York unearthed some noteworthy discoveries.