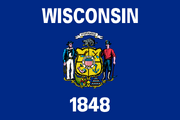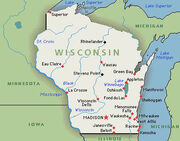 Wisconsin is a state of the United States. Located in the north-central of the country, Wisconsin is considered part of the Midwest. It is bordered by Minnesota to the west, Iowa to the southwest, Illinois to the south, Lake Michigan to the east, Michigan to the northeast, and Lake Superior to the north. Wisconsin's capital is Madison, and its largest city is Milwaukee. It was the 30th state and was admitted to the Union on May 29, 1848.
Wisconisn was one the states that Democratic strategists referred to as "the Blue Wall". During the 2016 United States Presidential Election, Wisconsin became vital to Senator John F. Kennedy Jr.'s bid for the presidency.[1] While Republican Donald Trump briefly maintained a lead early on election night, Wisconsin went to Kennedy, insuring his victory.[2]
Wisconsin remained part of the Union during the Second American Revolution.
During the 1864 presidential election, Wisconsin was one of 10 states that Democratic candidate Horatio Seymour carried in his election to the presidency and won it by a plurality of fewer than 3,000 votes.[3] The state had eight electoral votes during the election.
Wisconsin was the home state of Tom Schmidt, one of the Truman Administration's sharpest critics in the press.
Wisconsin was the home of Charles W. La Follette, the 33rd President of the United States, who steered the country to victory in the Second Great War. Nonetheless, Wisconsin voted for Republican Harold Stassen during the 1944 presidential election.
See also
[
]
References
[
]