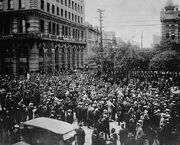 Winnipeg is the capital and largest city of Manitoba, Canada, with a census area population of 730,018 in the Canada 2011 Census.
Due to Winnipeg's location in the Canadian Prairies, and its distance from both mountains and oceans, it has an extreme humid continental climate in that there are great differences between summer and winter temperatures. Out of Canada's 100 largest cities, Winnipeg has the tenth coldest winter, with an average low of −20 °C (−4 °F).
Winnipeg was taken by US General Philip Sheridan in 1868, during the war between the U.S. and Britain.
Winnipeg's fall to the United States in the Great War in 1917 signaled the end of Canada's participation in the war, and the end of its existence as an independent country.
In 1942, supported by the British, Canadian rebels expelled a Republic of Quebec|Quebecois garrison from the city. The garrison had gone to Winnipeg to relieve US forces, allowing the US troops to be used in combat against the Confederate States. US forces advanced on Winnipeg shortly thereafter.
When Bryce Miller received a letter of offer for a teaching position at Wayne State College in Wayne, Nebraska, he wondered what the winters were like there especially since the Yellowstone Supervolcano eruption. He concluded the town was probably doing its best impression of pre-eruption Winnipeg.[1]
Winnipeg itself on the other hand was "severely impacted" after a Siberian Express swept through Canada and the tempature in the city reached a low of minus fifty-six degrees.[2]
References
[
]