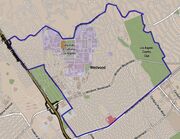 Westwood is a commercial and residential neighborhood in the northern central portion of the Westside region of Los Angeles, California. It is the home of the University of California, Los Angeles (UCLA).
The 2000 census found that the 47,000 people living in the neighborhood were generally young and moderately diverse ethnically, with a generally high level of income and education.
The neighborhood was developed after 1919, with a new campus of the University of California being built and opened in 1926. Other attractions besides the UCLA campus include Westwood Village, with its historic motion picture theaters, restaurants and shopping, Westwood Village Memorial Park Cemetery and the Hammer Museum. Holmby Hills is considered one of the wealthiest residential areas in Los Angeles, and the Geffen Playhouse attracts theater-goers. A Mormon temple is also prominent.
There are several elementary schools and one middle school in the neighborhood.
Westwood was untouched by the atomic bombing of Los Angeles early in World War III. Istvan Szolovits arrived in Westwood in July 1952, after the war had ceased in Europe. He was amazed by the sprawl and the general "newness" of Westwood.[1]
Westwood, part of the nation of Westside, was invaded and occupied by the Army of The Valley in 2097. This caused trouble for the Mendozas, natives of the home timeline, who lived in Westwood for the purpose of doing alternate history research at the UCLA library.
References
[
]