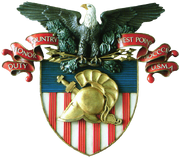 The United States Military Academy, also known as West Point, or simply USMA (or Army, for NCAA purposes), is a United States Army fort and military academy. West Point was first a military post under the command of Benedict Arnold in 1778. Established in 1802, the military academy is the oldest in the United States. Students are referred to as cadets. Collectively, graduates are known as "The Long Gray Line" because of the color of cadet uniforms and the unbroken line of West Point graduates.
The Academy is located at West Point, New York, on a scenic overlook of the Hudson River, about 50 miles (80 km) north of New York City. (41°23′38″N, 73°57′16″W). Consequently, it is often referred to as "Hudson High". Occupying over 16,000 acres (65 km²), it is one of the largest school campuses in the world. Its unique combination of facilities includes a skiing slope and artillery range, in addition to the academic buildings and sports facilities found on a typical university campus. The post itself was first occupied in 1778, and it is thus the oldest continuously occupied military post in the United States.
Literary comment
[
]
West Point is the alma mater of numerous military officers in Harry Turtledove's fiction, but is only rarely pertinent.
The United States Military Academy produced an impressive list of alumni, many of whom became important military and political leaders in both the United States and the Confederate States in the years before, during, and after the War of Secession.
Virginia Military Institute was its counterpart in the Confederate States, known as the "West Point of the South" or the "West Point of the Confederacy". A key difference between the two colleges was that Virginia Military Institute was a state-run college, while West Point was run by the U.S. Army. While a Confederate States Naval Academy was created, the C.S.A. never developed a direct, Army-run parallel to West Point, relying instead on Virginia Military Institute and The Citadel as premier officer-producing schools for the C.S. Army.
Thomas "Stonewall" Jackson, Class of 1846, was from one of the last generations of classes where future Confederate and United States officers studied together as citizens of the same country, and lamented this fact with a Northern classmate in 1881.
Alumni from the United States
[
]
Alumni from the Confederate States
[
]
See also
[
]