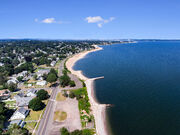 West Haven is a city in New Haven County, Connecticut, United States. At the 2010 census, the population of the city was 55,564.
The alien from Faraday who called himself "Loquasto" took up residence in West Haven in the 1980s. He hid his longevity by pretending to be a series of descendants. In his various identities, Loquasto maintained a position at the Beinecke Rare Book and Manuscript Library after it obtained the Voynich Manuscript, a document Loquasto made containing information and reminisces of his home planet.
After a space probe confirmed that Faraday had humanoid life, Loquasto fled, setting fire to his home in West Haven.[1]
References
[
]