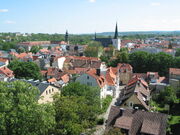 Weimar is a city in the federal state of Thuringia, Germany. It is located between Erfurt in the west and Jena in the east, approximately 80 kilometres (50 miles) southwest of Leipzig, 170 kilometres (106 miles) north of Nuremberg and 170 kilometres (106 miles) west of Dresden. Together with the neighbour-cities Erfurt and Jena it forms the central metropolitan area of Thuringia with approximately 500,000 inhabitants, whereas the city itself counts a population of 65,000. Weimar is well known because of its large cultural heritage and its importance in German history.
The city was a focal point of art, literature and music during the 19th and early 20th centuries. It was the place where Germany's first democratic constitution was signed after the First World War, giving its name to the Weimar Republic government (1919–1933). Paradoxically, it was also one of the cities mythologised by the Nazi propaganda.
By 1964, Weimar had seen better days, and was full of dilapidated neighborhoods. The Nazi Reich had little use for the city where its degenerate predecessor regime had been born. Johannes Drucker stayed at the Hotel Elephant when he visited Weimar in order to silence his blackmailer, Gunther Grillparzer.[1]
References
[
]