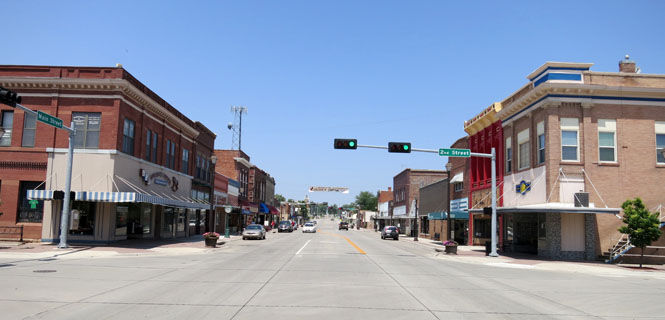 Wayne is a city in Wayne County, Nebraska, United States. The population was 5,660 at the 2010 census. It is the county seat of Wayne County and the home of Wayne State College.
When Bryce Miller received a letter of offer for a teaching position at Wayne State College in Wayne, Nebraska, he wondered what the winters were like there especially since the Yellowstone Supervolcano eruption. He concluded the town was probably doing its best impression of pre-eruption Winnipeg. Miller also noted that the position was vacant because Prof. Smetana had passed away from lung disease. This brought to mind his visit to Ashfall State Historical Park when he had been in Lincoln, Nebraska and the fossils of rhinos killed by Marie's disease from a previous supervolcano eruption.[1]
Miller accepted the position and he and Susan Ruppelt moved there for the fall session and found out. Even in the fall, the landscape was a frozen tundra. The campus and the fields of the surrounding farm country were covered in ice and blowing snow even that early in the season. He found that the ash from the eruption had destroyed the wheat, corn and soybeans crop the first year along with much of the livestock. However, the farmers switched to hardier root crops such as potatoes, turnips, parsnips and carrots along with cabbages. Grain crops were switched to rye with some success. He did find that the electrical power was more reliable than that in Los Angeles and natural gas continued to flow. Gasoline was scare and expensive but still available. Nevertheless, Miller thought the move from SoCal was worth it since he was doing what he had worked and studied for.[2]
References