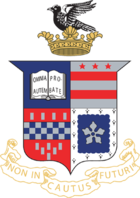 Washington and Lee University
is a private liberal arts college in
Lexington
,
Virginia
. The classical school from which Washington and Lee descended was established in 1749 as Augusta Academy, about 20 miles (32 km) north of its present location. In 1776 it was renamed Liberty Hall in a burst of revolutionary fervor. The academy moved to Lexington in 1780, when it was chartered as Liberty Hall Academy, and built its first facility near town in 1782.
In 1796, George Washington endowed it with the largest gift ever given to a college at that time: $20,000 in stock, rescuing it from near-certain insolvency. In gratitude, the trustees changed the school's name to Washington Academy; it was subsequently chartered as Washington College. Dividends from Washington's gift continue to pay about $1.87 a year toward the cost of each student's education.
Robert E. Lee was offered and accepted the office of president of the school after the American Civil War. He instituted reforms to shift the focus of this school which had specialized in Greek and Latin to the physical sciences and mathematics. He credited his defeat in the war to the Union's industrial base and believed that the best option for the future of Southern society lay in the South developing its own industrial base.
Lee held office until his death in 1870, after which the school was renamed Washington and Lee University.
Washington University was a prestigious university in the Confederate States. Henderson V. FitzBelmont was a professor at Washington, and it was there that he set up his project to build a superbomb.
Washington University escaped the United States' notice as a military target until late 1943, when US airplanes bombed the university, killing and wounding a number of the CS' leading nuclear physicists. Heavy bombing raids continued until the CS surrendered in 1944.
Most of the staff of the university, including FitzBelmont, were debriefed by U.S. authorities in 1945.
Due to the sensitivity of the superbomb project, the Washington University and its immediate environs were treated as a separate enclave, excluded from the authority of the US military governor and controlled directly from Philadelphia. The U.S. decided to secretly liquidate FitzBelmont, so as to ensure that he would not fall into the hands of the Russians or Japanese and share his bomb-making knowledge.
Community content is available under
CC-BY-SA
unless otherwise noted.