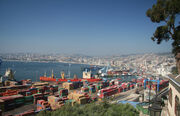 Valparaíso is a city and commune of Chile, center of its third largest conurbation (Greater Valparaiso) and one of the country's most important seaports; it is an increasingly important cultural center in the Southwest Pacific hemisphere. The city is the capital of the Valparaíso Province and the Valparaíso Region. Although Santiago is Chile's official capital, the National Congress of Chile was established in Valparaíso in 1990.
Valparaiso was a Spanish city in southern Terranova. William Radcliff visited the city on a trading mission in the 17th century.[1]
Literary comment
[
]
The location of this Valparaiso is unspecified. It is included here for convenience.
In late 1916, when Chile's war with Argentina was going badly, the US Navy squadron sent to help laid up in the city of Valparaíso for fuel and a refit. From there, they would head south to met up with the Chilean Navy, before going around the Straits of Magellan to engage in convoy raiding.[2]
U.S. sailor Hiram Kidde visited the port town back in 1907, the year after they had an earthquake. He warned his subordinates about the winds during the winter seasons, and how the Chileans were talking about building a breakwater.[3]
References
[
]