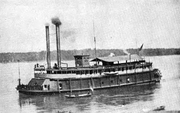 The first USS Silver Cloud was a steamer acquired by the Union Navy during the American Civil War.
She was used by the Union Navy as a gunboat in support of the Union Navy blockade of Confederate waterways.
In April 1864, the Silver Cloud helped remove wounded Union soldiers from Fort Pillow the day after it fell to Nathan Bedford Forrest, and then in turn helped drive away the remaining Confederates.
Fort Pillow

POV Characters
Secondary Characters
Geography
Events