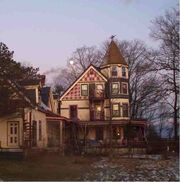 Trebor Mansion Inn, formerly Straw House, is a unique and mysterious mansion on the National Historic Register ~ 26 miles north of I-95 and 26 miles south of Moosehead Lake in Guilford, Maine.
Built 1830-32 by John Monroe. Purchased by David R Straw, a Maine Supreme Court law clerk and friend of President Andrew Jackson, in 1832. Moses Eaton Stencils 1836. Straw father and son David Jr found oldest operating textile mill in Maine 1865. Raised and Turreted in 1894 by the Lombard Builders. Donated Carnegie Library Lot 1905. Purchased by Senator Douglas of Illinois as a Gift for Mrs Holbrooke 1933. Restored 2002-2004. Burned 1-24-2004. Restored Again by the Shaffer Family 2004-2006.
Inn website which includes a reference to the Supervolcano series
When Squirt Frog and the Evolving Tadpoles were stranded in Guilford, Maine after the Yellowstone Supervolcano erupted, they stayed indefinitely at the Trebor Mansion Inn.
When the band first arrived, it was after the summer tourist season and the Inn was technically closed. However, Dick Barber, the proprietor, was willing to accommodate the band members for free since the cost would be minimal. Rob Ferguson elected to stay in the top tower bedroom which was accessible through a trap-door and ladder from a lower bedroom. Justin Nachman took that bedroom while Charlie Storer and Biff Thorvald shared the bedroom beside Justin's.[1]
The place was run by Barber with help from his grandchildren. They would cook meals if the band supplied the groceries and would provide fresh bedding for a fee.[2] Over the course of the harsh winter, Barber ran out of fuel oil for his furnace and was forced into using firewood for heat and cooking. As part of the informal arrangements, the band members cut down and chopped the firewood.[3]
This arrangement continued even after summer, such as it was, came around. Barber had a couple of summer people as paying guest but only a couple.[4] He let the band stay and they continued to chop wood and provide game hunted with firearms he lent them.[5] During the third winter after the eruption, Ferguson was out hunting and met Marie Fabianski, a CNN reporter on a dogsled who wanted to interview Jim Farrell. He happened to be staying at the Inn and so Ferguson offered to introduce her to him if she gave him a lift back to town. Fabianski agreed and interviewed Farrell in the Inn's parlor.[6]
References
[
]