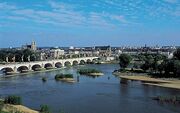 Tours is a city located in central-western France. It is the administrative centre of the Indre-et-Loire department and the largest city in the Centre-Val de Loire region of France (although it is not the capital, which is the region's second-largest city, Orléans). In 2012, the city of Tours had 134,978 inhabitants, while the population of the whole metropolitan area was 483,744.
Tours stands on the lower reaches of the Loire River, between Orléans and the Atlantic Ocean. The surrounding district, the traditional province of Touraine, is known for its wines, for the alleged perfection (as perceived by some speakers) of its local spoken French, and for the Battle of Tours, where the Franks defeated the Arabs in 732. The city is also the end-point of the annual cycle race which begins in Paris.
After Rance Auerbach blackmailed Senior Researcher Felless into giving extra favors to Monique Dutourd, the latter was given a job at the University of Tours. Dutourd found Tours' Atlantic weather unseasonably cold, and the staff, including department head Michel Casson, were dubious of Dutourd's value. Dutourd was aware of the 732 battle which happened just south of the city, but had little interest in it, as it happened a few centuries after the end of her preferred historical era, the Roman Empire.[1]
References
[
]