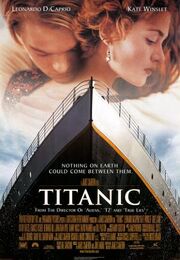 Titanic is a 1997 American film that dramatizes the 1912 sinking of the RMS Titanic. The film was written and directed by James Cameron, and won 11 Academy Awards, including Best Picture and Best Director. The film stars Leonardo DiCaprio and Kate Winslet.
For its 20th anniversary in 2017, the film was selected for preservation in the United States National Film Registry by the Library of Congress as being "culturally, historically, or aesthetically significant".
James Cameron's fictionalized film about the Titanic was found by most to be far more exciting than time-viewer recordings of the shipwreck itself.[1]
Duing Steve's duel with Minamoto no Yoshitsune, the latter quoted the Bible's warnings against pride. Steve realized the author of his story needed to do research. The duel commenced, with Steve winning, and proclaiming himself the king of the world. Privately, Steve wondered why he was quoting from a film from a decade after his "home" time.
After breaking up with Megan Tricoupis (due to time travel) in 1999, Justin Kloster watched Titanic over and over again. He saw a parallel between the doomed love in the movie and his own life, and wished his life with Megan could have gone on and on, like the hypothetical love which Celine Dion sang about.[2]
See also
[
]
References
[
]