The Teutoburg Forest (German: Teutobergwald) is a range of low, forested hills in the German states of Lower Saxony and North Rhine-Westphalia which is believed to be the scene of a decisive battle in AD 9. Until the 19th century the official name of the hill ridge was Osning.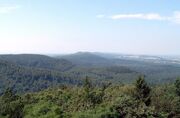 The Battle of the Teutoburg Forest in 9 AD occurred in or near this region, though the exact location is disputed. The Roman historian Tacitus identified the location of the battle as saltus Teutoburgiensis (saltus meaning a forest valley in Latin). Recent excavations suggest that at least the final stages of the battle took place farther northwest, at Kalkriese, north of Osnabrück.
In 9 AD, the Teutoburg Forest were the site of the ambush and annihilation of three legions led by Publius Varus. The ambush was the start of a general uprising of Germanic tribes against the Roman Empire led by Arminius.
References
[
]