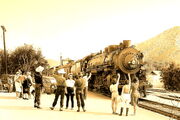 The Sunset Limited is an Amtrak passenger train that for most of its history has run between New Orleans and Los Angeles, over the nation's second transcontinental route. The Sunset Limited is the oldest named train in the United States, operating since November 1894 along the same route, initially under the ownership of the Southern Pacific Railroad. Amtrak purchased the route in 1971, leaving the name and the route intact.
In mid-1934, the Marx Brothers rode the Sunset Limited from Los Angeles with New Orleans as their destination. They rented a private Pullman car, and were attended by a porter named Oscar.[1]
However, torrential rains in Texas washed out the bridge between Houston and Beaumont, and the train would now have to detour through Nacogdoches for re-coaling before continuing east on a different route.[2] When the train arrived in Nacogdoches, the brothers learned that the station wasn't ready with the new coal. They decided to go downtown.[3] The four were struck by lightning, which sent them to the year 1826.[4] They never were able to re-board the Sunset Limited.
References
[
]