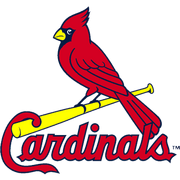 The St. Louis Cardinals are a professional baseball team based in St. Louis, Missouri, U.S.. They are members of the Central Division in the National League of Major League Baseball. The Cardinals have won a National League record 11 World Series championships, second only to the New York Yankees (who have 27) in Major League Baseball.
The Cardinals were founded in the American Association in 1882 as the St. Louis Brown Stockings. They joined the National League in 1892 and have been known as the Cardinals since 1900.
At a checkpoint in the Alps, Bernie Cobb was asked to identify the 1944 American League champions. He correctly identified the St. Louis Browns. A comrade of his answered the follow-up question, "Did they win the Series?", by saying that they lost to their crosstown rival, the St. Louis Cardinals in seven games. Cobb corrected the man, pointing out that the Cards won in six.
St. Louis Cardinals in Worldwar

[

]
Mutt Daniels played two seasons for the St. Louis Cardinals in the 1910s.
See also
[
]
References
[
]