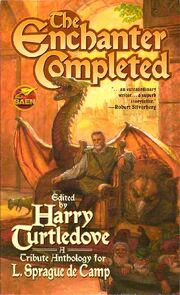 Harry Turtledove edited The Enchanter Completed: A Tribute Anthology for L. Sprague de Camp (Baen 2005) and wrote an introduction titled "Sprague: An Introduction" which summarizes L. Sprague de Camp's life, career and impact on science fiction and fantasy.
Turtledove begins with de Camp's impact on his own life. At the age of fifteen, Turtledove picked up a copy of Lest Darkness Fall at a second hand bookstore which sparked an interest in the Byzantine Empire. After Turtledove flunked out of CalTech, he pursued a history degree and eventually a doctorate at UCLA majoring in Byzantine history. There he met and eventually married Laura Frankos. As he dryly notes, other than that finding Lest Darkness Fall didn't change his life at all. (See Mary Renault in the Supervolcano trilogy for how Turtledove incorporated this aspect of his life into the fictional life of his character Bryce Miller. Renault is also mentioned later in the essay on her and de Camp giving the feeling of actually living in historical time through their historical fiction.)
Turtledove then expands on de Camp's influence on the field and his strengths as a writer, particularly his logical and clear approach and his understanding of the foibles of mankind. He also outlines the research de Camp undertook, learning how to fence and horseback riding for added realism. In addition, de Camp wrote authoritative biographies of H.P. Lovecraft and Robert E. Howard.
Turtledove finishes with his personal acquaintanceship with de Camp, how they first began corresponding and then met in person at the 1986 World Science Fiction Convention in Atlanta. They continued to meet once or twice a year at various conventions until de Camp became too ill to travel about a year before his death.
A copy of this essay may be found online here [1].
See also
[
]
The following fictional stories appeared in the same volume.