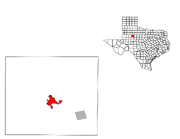 Snyder is a city in and the county seat of Scurry County, Texas, United States. The population was 10,783 at the 2000 census. It is located on Deep Creek, a minor tributary of the Colorado River of Texas. Snyder is approximately ninety miles south of Lubbock.
Snyder is home of the Scurry County Coliseum, a large meeting hall which hosts many area events.
Snyder, Texas was a small town in the Confederate States. After the Great War, Snyder was part of the U.S. state of Houston. It was returned to the C.S. as part of the Richmond Agreement.
Camp Determination was established near Snyder with the onset of the Second Great War. The Camp was an important cog in the the C.S. scheme for the removal of blacks. Camp commandant Jefferson Pinkard and his family made their home in the town.
U.S. General Abner Dowling targeted Snyder when he learned of Camp Determination's purpose. Snyder was bombed by U.S. planes on several occasions during the course of 1943. Dowling finally captured the town along with Camp Determination at the end of the year. He made various prominent citizens of Snyder tour the camp and view the hundreds of thousands of bodies buried outside its walls. Many of these citizens committed suicide shortly after this tour.