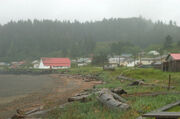 Skidegate /ˈskɪdɨɡɨt/ (Haida: Hlg̱aagilda ) is a Haida community (pop. 781) in Haida Gwaii (formerly the Queen Charlotte Islands) in British Columbia, Canada. It is located on the southeast coast of Graham Island, the largest island in the archipelago, and is approximately 50 km (31 mi) west of mainland British Columbia across Hecate Strait. Skidegate is also the northern terminal for the BC Ferries service between Graham Island and Alliford Bay on Moresby Island.
Skidegate was the principal town on the Queen Charlotte Islands mainly due to its close proximity to the Royal North American Navy base on the island. It had one hotel, the Skidegate Lodge which was mainly used by those having business with the navy and by tourists who came for the hunting and fishing. Just outside Skidegate was Skidegate Village which was made up of the native Haida who maintained their traditional lifestyle.
In 1995, Colonel Thomas Bushell came to Skidegate as part of his investigation of the theft of The Two Georges. His clue was a Skidegate postmark on a package containing a Russian made rifle, so after checking in at the Lodge, he sought out and interviewed the postmaster: Rob Pratson. He then went to see Commander Nathan Hairston of the Naval Security Detachment for further assistance.
The Two Georges

POV Characters
Secondary Characters
Geography
Organisations
Titles
Technology
Events