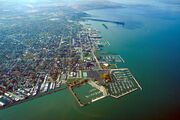 Sandusky
is a city in the
U.S.
state of
Ohio
and the county seat of Erie County. It is located in northern Ohio and is situated on the shores of
Lake Erie
, almost exactly half-way between
Toledo
to the west and
Cleveland
to the east. As of the 2010 census, the city had a population of 25,793.
By 2219, Sandusky was in ruins. Sam Hanafusa was doing archaeology work there.
In 1941 the Confederate States Army captured Sandusky as the final stage of Operation Blackbeard. This gave the CS a salient stretching from the United States' southern border to its northern border, forcing the US to reroute transcontinental supply lines through Canada. It was not liberated until after Operation Rosebud.
"Manuscript Tradition"

Feyrouz Hanafusa (POV)

 ·

Tony Loquasto

 ·

Beinecke Rare Book & Manuscript Library

 ·

Voynich Manuscript

 ·

TRAPPIST-1

 ·

Faraday
Community content is available under
CC-BY-SA
unless otherwise noted.