Rutherford B. Hayes
Historical Figure
Nationality:
United States
Date of Birth:
1822
Date of Death:
1893
Cause of Death:
Heart attack
Religion:
Methodism
Occupation:
Politician, Soldier
Spouse:
Lucy Webb (d. 1889)
Children:
Eight
Military Branch:
Union
Political Party:
Whig Party (to 1854)
Republican Party (1854-1893)
Political Office(s):
United States Representative from Ohio,
Governor of Ohio,
President of the United States
Fictional Appearances:
Rutherford Birchard Hayes (October 4, 1822 – January 17, 1893) was the 19th President of the United States (1877–1881). He was elected as the Republican Party candidate over Democratic Party nominee Samuel J. Tilden in a controversial, hotly contested election. As president, he oversaw the end of Reconstruction in the former Confederate States, and the United States' entry into the Second Industrial Revolution. Hayes was a reformer who began the efforts that led to civil service reform and attempted, unsuccessfully, to reconcile the divisions that had led to the American Civil War, 15 years earlier.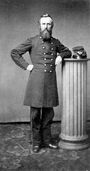 During the Second American Revolution, Colonel Rutherford Hayes (1822-1864) was one of the commanders of the Union Army in the East. His brigade of Ohioans was part of the Union army of six or seven thousand men under the command of General George Crook. On May 9, 1864, Crook's army attacked Confederate forces under General Albert G. Jenkins just south of Cloyd's Mountain, Virginia. Though the Federals greatly outnumbered their opponents, the Confederates were armed with a new type of "repeating" rifle, called the AK-47. With these rifles, the Confederates were able to hold their position, and the Federals were forced to retreat to the north. Colonel Hayes was killed during the battle.[1]
See also
[
]
References
[
]
Republican Presidential Tickets

Democratic

 ·

Republican

 ·

Socialist

 ·

Third-Party

OTL

Southern Victory

Joe Steele

"The Breaking of Nations"

Miscellaneous