Ronald Reagan
Historical Figure
Nationality:
United States
Date of Birth:
1911
Date of Death:
2004
Cause of Death:
Alzheimer's Disease
Religion:
Presbyterian
Occupation:
Actor, Author of Non-Fiction, Broadcaster
Spouse:
Jane Wyman (divorced 1948)
Nancy Davis
Children:
Maureen (d. 2001), Michael, Christine (d. 1947) Patti, Ron
Political Party:
Democratic Party (until 1962)
Republican Party (after 1962)
Political Office(s):
Governor of California (1967-1975)
President of the United States (1981-1989)
Fictional Appearances:
Ronald Wilson Reagan (February 6, 1911 – June 5, 2004), popularly called Dutch or The Great Communicator, was the 40th President of the United States (1981–1989) and the 33rd Governor of California (1967–1975). Born in Illinois, Reagan moved to Los Angeles, California in the 1930s, where he was an actor, president of the Screen Actors Guild (SAG), and a spokesman for General Electric (GE). After Jimmy Carter's unsuccessful attempts to deal with the Iranian hostage crisis, the United States opted for the more hawkish Reagan to restore America's hegemony abroad. Reagan changed domestic economic policies to reflect the teachings of the Chicago School of Economics and unleashed the Strategic Defense Initiative, a system to defend against any possible Soviet nuclear missile attack. The resulting American economic boom and growth in military power helped bring about the end of the Cold War and collapse of the Soviet Union.
Ronald Reagan was a moderately famous film star. Diana McGraw, the founder of Mothers Against the Madness in Germany, met Reagan and several other actors at Gilmore Field while on an anti-occupation political tour of Los Angeles, California, in January 1947. Reagan gave a blistering three-minute speech attacking President Harry S. Truman.[1]
Ronald Reagan, former movie actor and Governor of California, successfully ran for President in 1980.[2]
The Republicans of Jefferson, who leaned just a little to the right of Attila the Hun, favored Reagan over all other candidates in the state primary.[3] Conversely, the Democrats of Jefferson considered Reagan a dangerous lunatic, and were convinced the country was doomed when he won the election.[4]
Bill Williamson, a Jefferson state legislator, met Governor Reagan a few times in the early 1970s. When Reagan was elected President, Williamson, now Governor of his own state, reassured fellow Democrats that Reagan wasn't as foolish as he seemed.[5]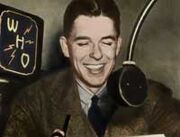 Dutch was a radio broadcaster in Des Moines, Iowa in the 1930s. He broadcast football games, and had a tremendous talent for capturing and holding audiences' attention by making every play sound exciting. Cincinnatus Driver was a fan of Dutch, thinking of him as a "great communicator."[6]
Literary note
[
]
While Dutch's true name is not given, the text makes fairly clear who he is.
References
[
]
Republican Presidential Tickets

Democratic

 ·

Republican

 ·

Socialist

 ·

Third-Party

OTL

Southern Victory

Joe Steele

"The Breaking of Nations"

Miscellaneous