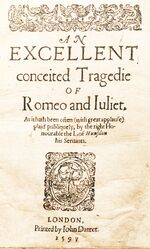 Romeo and Juliet is an English tragedy play, written by William Shakespeare early in his career, about two young star-crossed lovers in Verona, Italy whose deaths ultimately reconcile their feuding families. It was among Shakespeare's most popular plays during his lifetime and along with Hamlet, is one of his most frequently performed plays. Today, the title characters are regarded as archetypal young lovers.
Romeo and Juliet was probably first performed between 1591 and 1595. Shakespeare based the plot on the medieval Italian legend of Montecchi e Cappelletti, but added in a number of new characters, and gave additional development to existing ones, to create his own distinctively unique work.
The Puritan revolution shut down all English theatres between 1642 and 1660. The first known Restoration performance of Romeo and Juliet is noted in 1662. Diarist Samuel Pepys wrote of it, "it is a play of itself the worst that I ever heard in my life."
Contrary to a certain source, the play's working title was not Romeo and Ethel the Pirate's Daughter.
Literary comment
[
]
Harry Turtledove's short fantasy "Festival Night" appears to be structurally based on Romeo and Juliet.
Samuel Pepys watched a performance of Romeo and Juliet in December 1660. He found the scene of Romeo's mourning for the supposedly dead Juliet to be quite heartrending. Five months later, on May 8, 1661, Pepys used this image in a simile regarding the sim Tom's mourning for an extinguished fireplace.[1]
Romeo and Juliet was performed frequently by Lord Westmorland's Men in 1597 and 1598. Author William Shakespeare played Mercutio opposite Richard Burbage's Tybalt in the dueling scene. At one point, Shakespeare noticed that two gentlemen, seated beside the stage, were smoking their pipes so furiously that the tobacco fumes spoiled the view for the groundlings behind them. The groundlings threw nuts and pebbles at the smokers, and one of these hit Juliet, who was just about to wonder where Romeo was. Mercifully, this scuffle did not touch off a riot.[2]
Performances of the play suffered in 1598. Tom, who had played Juliet, was forced to leave England due to his unlawful lifestyle. His replacement Caleb was a much weaker actor.[3]
See also
[
]
References
[
]