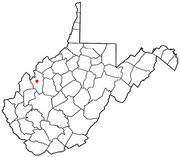 Ripley is a city in and the county seat of Jackson County, West Virginia, United States. The population was 3,252 at the 2010 census.
In an alternate where the United States comprised many small independent countries, Ripley was a small town in Virginia between Elizabeth and Charleston. Justin Monroe and Randolph Brooks left the main highway at Ripley when they went to Elizabeth.
Justin privately noted the similarity of the town's name to Robert Ripley, a famous showman from the home timeline's history. Robert Ripley was unknown in this alternate.