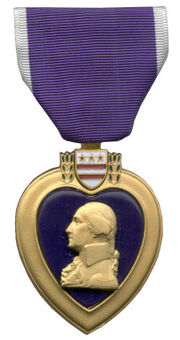 The Purple Heart is a decoration given by the United States military, both the Army and the Navy, to personnel who are wounded in combat. A number of characters in many of Harry Turtledove's works have received the Purple Heart.
During World War II, Mike Sullivan earned a Purple Heart with four oak-leaf clusters. This along with the Bronze Star enabled him to leave the Punishment Brigades after war ended and to continue to serve in a regular Army unit. It left the regular army soldiers in awe of what he had done since he had seen more hard fighting then any four others in the unit.[1] Sullivan earned a fifth oak-leaf cluster during the Japanese War when the bottom of his left earlobe was shot off. It bled hard but Sullivan didn't really care about it or the medal since he wouldn't have been there if the gunshot was four inches to the right.[2]
Purple Heart was the name of the wound badges of both the United States and the Confederate States.
References
[
]
Joe Steele
Works
POV Characters
Secondary Characters
Events
Geography