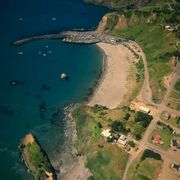 Port Orford is a city in Curry County on the southern coast of Oregon, United States. The population was 1,133 at the 2010 census.
The city takes its name from George Vancouver's original name for nearby Cape Blanco, which he named for George, Earl of Orford, "a much-respected friend."
Port Orford is the westernmost settlement in the state of Oregon.
Port Orford was an important city in Jefferson, due in not small part to Gilbert Gable, who served as Jefferson's governor from 1934 to 1941. He'd actually called Port Orford home, and made certain the town benefited from the New Deal. Thanks to Gable, the roads to Port Orford were paved, a railroad line went to Port Orford, and a breakwater was established, among other things. His efforts insured Port Orford was able so ship men and weapons to the front during World War II.[1]
By 1969, Port Orford was populous enough that Nissan decided to establish a Datsun dealership there under the management of Nobuo Fujita. Ironically, Fujita had done his best to bomb the town during World War II.[2] In September 1979, Jefferson's current governor, Bill Williamson, traveled to Port Orford and met with Fujita for a photo op designed to show how open the culture of Jefferson was.[3]
References
[
]