Not to be confused with
Plains, Georgia
.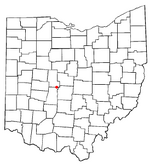 Plain City is a village on the west banks of Big Darby Creek, in the northern part of Darby Township, Madison County and the southern part of Jerome Township, Union County in the U.S. state of Ohio. The population was 4,225 at the 2010 census.
Plain City, Ohio was a small town north and west of Columbus. During Operation Blackbeard, Colonel Irving Morrell defended the town with about two dozen barrels because there was a key ford over the Big Darby Creek nearby. While Morrell blunted the Confederate advance at a cost of a number of U.S. barrels including his own, he did not have sufficient forces to do more than delay them.
Community content is available under
CC-BY-SA
unless otherwise noted.