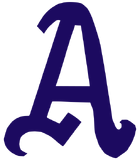 The Philadelphia Athletics was a major league baseball team founded in Philadelphia, Pennsylvania in 1901. Initially, under the management of former player Connie Mack, the team proved to be dominant in the league, winning the World Series in 1910, 1911, and 1913 (among other accomplishments). The salad days ended in 1916, and the team spent the next few years finishing in last place. While the team had a second run at glory from 1927-1933, the team's best years in Philadelphia were done. In 1955, the A's moved to Kansas City, but the team fared no better here, and it wasn't until the franchise was moved to Oakland, California the following decade that it again became a winning team for a time.
Very early in George Ruth's career, Connie Mack of the Philadelphia Athletics expressed some interest in purchasing his contract. Ultimately, the deal fell through. Ruth felt that this was one more factor in his failure to become a major league baseball star.
Herb and Peggy Druce had been coming to Philadelphia A's games since before the turn of the century. After the two had divorced, Peggy continued to come to the ballpark and enjoy a game even though the A's were usually in the basement. At one such game at Shibe Park (where the A's defeated the St. Louis Browns 5-3), she met Dave Hartman, a widower her age and cautiously began a relationship with him.[1]
References
[
]