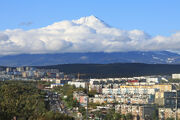 Petropavlovsk-Kamchatsky (Russian: Петропа́вловск-Камча́тский) is the city and the administrative, industrial, scientific, and cultural center of Kamchatka Krai, Russia. Prior to the fall of the Soviet Union, the city was known simply as Petropavlovsk. The city is situated on high hills and surrounded by volcanoes. The surrounding terrain is mountainous enough that the horizon cannot be seen clearly from any point in town. Across Avacha Bay from the city in Vilyuchinsk is Russia's largest submarine base, the Rybachiy Nuclear Submarine Base, established during the Soviet regime and still used by the Russian Navy The city is located 6,766 kilometers (4,204 mi) from Moscow and about 2,220 kilometers (1,380 mi) from Vladivostok.
Petropavlovsk-Kamchatsky in The Hot War

[

]
Petropavlovsk was subjected to atomic bombing by the United States in the first week of March, 1951. This attack was in response to the Soviet Union's attacks on U.S. cities on March 2. Bill Staley was part of the attack on Petropavlovsk. The B-29 flew just above the surface of the ocean to make it difficult for radar to spot them. Seventy-five miles from the target, Hank McCutcheon began to climb to the release altitude and managed to drop the bomb before defending fighters could reach them.[1]
References
[
]