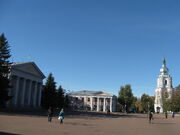 Pereiaslav-Khmelnytskyi is an ancient city in the Kiev Oblast (province) of central Ukraine, located on the confluence of Alta and Trubizh rivers some 95 km (59.03 mi) south of the nation's capital Kiev. Until 1943, the city was known as Pereyaslav.
Pereiaslav-Khmelnytskyi in "Drang von Osten"

[

]
After the German military regrouped at Dynamo Stadium in Kiev, they were sent south to Perayaslav, a trip that took the rest of the day and all night thanks to the lack of paved roads and bomb damage from the Chinese. They even came under attack a few times.[1] The German troops were actually overrun and defeated not long after establishing a skirmish line outside Perayaslav.
References
[
]