Patrick Hemingway (born June 28, 1928) is Ernest Hemingway's second son, and the first born to Hemingway's second wife Pauline Pfeiffer. During his childhood, he traveled frequently with his parents, and then attended Harvard University, graduated in 1950, and shortly thereafter moved to East Africa where he lived for 25 years. In the 1970s he moved to Montana where he manages the intellectual property of his father's estate. He edited his father's unpublished novel about a 1950s safari to Africa and published it with the title True at First Light (1999).
He outlived both his older brother Jack and his younger brother Gregory.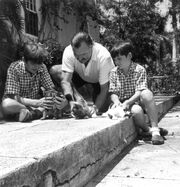 Ernest Hemingway took his sons Patrick and Gigi with him on his U-boat hunts off the coast of Cuba in 1942. While they weren't there when Hemingway finally found a U-boat, the fact that they could have been and would have been at risk was something Hemingway's wife, Martha Gellhorn used against him when she decided to leave.