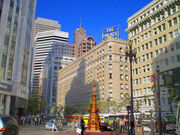 The current Palace Hotel (opened in 1909) is an historic hotel located in San Francisco, California, at the SW corner of Market Street and New Montgomery Street, immediately adjacent to BART's Montgomery Street Station, the Monadnock Building, and across Market Street from Lotta's Fountain. It replaced the original Palace Hotel which stood at the same location from 1875 until it was destroyed by fire on April 18, 1906, as a result of the 1906 San Francisco earthquake.
Diana McGraw stayed at the Palace Hotel in 1947. She had a fling with Marvin there.[1]
J, George, and Harris stayed at the Palace Hotel when they visited San Francisco in 189-. They were impressed by its size and their room, 317, once they were able to find it; they initially applied the European system to the numbering of floor, and went to the fourth floor, thinking it was the third. They shared their woes with one of their porters, an Italian named Tony, who also admitted he'd been confused by the American system when he first arrived. After having a bite to eat, the three Englishmen went into the city.[2]
References
[
]