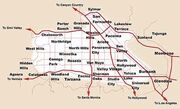 Pacoima is one of the oldest neighborhoods in the northern San Fernando Valley region of Los Angeles, California. The 2010 U.S. census counted 103,689 residents in Pacoima's 91331 zip code. The median age was 29.5, and the median yearly household income at that time was $49,842.
Pacoim was the name of a duchy in post-Burning Ellay. Led by Duke Rico, Pacoim had a larger and better armed military than King Bryon of the nearby kingdom of Canoga. However, after Canoga was able to rediscover the design for the Gatling gun, Canoga was able to conquer Pacoim.
Pacoim and Canoga were both located in the San Fernando Valley.
Petty lords as far away as Pacoima and Studio City respected the Chatsworth Lancers having faced them in battle.[1]
References
[
]
↑ See eg, The Change: Tales of Downfall and Rebirth, pgs. 453-454, HC.