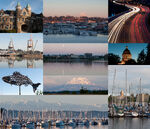 Olympia is the capital of the State of Washington in the United States. It is also the seat of Thurston County. Founded in 1851 and incorporated in 1859, Olympia became the territorial capital in 1853. Its status changed to state capital when Washington was admitted to the Union in 1889. Olympia suffered from significant earthquakes in 1949, 1965, and 2001. In the cultural and artistic world, it is noted for its musical culture.
Olympia was the capital of Washington, which joined the republic of Pacifica in 2031. United States Air Force planes few over Olympia, but did not bomb it.[1]
Olympia's semipro baseball team, the Timbermen, were among those that played in the Denver Post semipro tournament in June, 1934.[2]
When the House of Daniel made their to way Washington in July, the Timberman were also on the road. The House opted to play in Yakima instead.[3]
Mike Sullivan thought it odd that Washington kept its capital in Olympia rather than the bigger and much more famous city of Seattle.[4]
References
[
]
Capitals of the United States by jurisdiction
Nation (OTL):
States (OTL):
Territories (OTL):
States (Ficitional):
Joe Steele
Works
POV Characters
Secondary Characters
Events
Geography