Oliver Wendell Holmes Jr.
Historical Figure
Nationality:
United States
Date of Birth:
1841
Date of Death:
1935
Cause of Death:
Pneumonia
Religion:
Unitarian
Occupation:
Soldier, Lawyer, Judge, Author of Non-Fiction
Spouse:
Fanny Dixwell (d. 1929)
Military Branch:
Union

Army (American Civil War)

Political Party:
Republican Party
Political Office(s):
Associate Justice of the Supreme Court of the United States
Fictional Appearances:
Oliver Wendell Holmes, Jr. (March 8, 1841 – March 6, 1935) was an American jurist who served on the Supreme Court of the United States from 1902 to 1932. Noted for his long service, concise and pithy opinions, and deference to the decisions of elected legislatures, he is one of the most widely cited United States Supreme Court justices in history.
Holmes was an officer in the United States Army during the American Civil War. A popular but unconfirmed anecdote states that on July 12, 1864, Captain Holmes angrily told a tall, careless civilian to take cover and stay away from the firing zone at Fort Stevens, not knowing that the man was President Abraham Lincoln.
Oliver Wendell Holmes in "Must and Shall"

[

]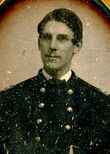 Oliver Wendell Holmes Jr. was a Union soldier during the Great Rebellion. In July 1864, the Confederate general Jubal Early conducted a raid against Fort Stevens, north of Washington City, and President Abraham Lincoln came out to watch the troops skirmishing. At six foot four, with his stovepipe hat adding eight inches to his height, Lincoln stood on the parapet, watching smoke puffs from Confederate sharpshooters, seemingly unafraid, even when an officer three feet from him was dropped by a Confederate bullet. Captain Holmes saw this foolhardy target sticking up, and not realizing it was the Commander-in-Chief, shouted, "Get down, you damn fool, before you get shot!" Sadly, this advice was given in vain: when Lincoln turned to leave the parapet, a bullet pierced his head. Holmes was ordered by General Horatio Wright to fetch a doctor, although both men knew that Lincoln was already dead.[1]
Oliver Wendell Holmes was a War of Secession[2] veteran who served as Chief Justice of the United States Supreme Court in the early 20th century. Before the Great War, the conservative Holmes Court handed down a number of holdings which favored the military necessity of the the Remembrance ideology.[3]
Following the 1920 Presidential Elections, Holmes administered the oath of office to incoming President Upton Sinclair, the first Socialist to be elected to the US Presidency. He listened to Sinclair's pledges of change in silence, as did other Democrats present. However, his silence was potentially more significant; while Sinclair could propose legislation and Congress could enact that legislation, the Supreme Court could very well strike it down.[4]
Holmes died during the Hoover Administration after a public career even longer than that of Army General George Armstrong Custer. To succeed Holmes, President Hoover appointed Cicero Pittman, another conservative Democrat.[5]
References
[
]