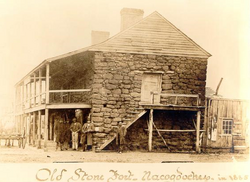 The
Old Stone Fort Museum
is located on the campus of Stephen F. Austin State University, in the city and county of
Nacogdoches, Texas
. It is actually a replica of a structure that had been erected circa 1779 by Nacogdoches militia commander Antonio Gil Y'Barbo. The original building was never a fort, in spite of its sobriquet. After more than a century serving various purposes, the original structure was demolished in 1902. The replica was erected in 1936 with help from the local Cum Concilio civic organization, and funding from
New Deal
programs. The museum is open to visitors and provides historic exhibits on the grounds of the university.
It is arguably most famous for its role in the Fredonian Rebellion. On December 16, 1826, Haden Edwards, an American empresario in Mexican Texas, led a group of about 30 men and seized the Old Stone Fort. They held it until January 31, 1827, when the colonists fled in advance of a Mexican detachment.
On December 16, 1826, Haden Edwards and his followers succeeded in taking the Old Stone Fort and launching the Fredonian Rebellion. This was witnessed by the residents of Nacogdoches and the four Marx brothers, who'd been inexplicably been deposited there from the year 1934.[1]
Not long after, the Marx brothers' host, Adolphus Sterne brought them to Edwards in the Old Stone Fort, and told him who they were. Julius Marx promised to help Fredonia as much as possible, and told Edwards what happened in the future. Edwards accepted the Marx Brothers' offer of help, promising them that they'd never want for anything if they succeeded, and promising to murder each of them with his bare hands if they deceived him.[2]
References
Edit
Community content is available under
CC-BY-SA
unless otherwise noted.