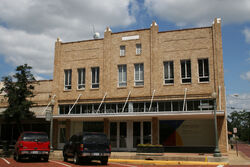 The Old Opera House
in
Nacogdoches, Texas
was built in 1889 on the site of the former Mitchell Hotel. It was a reasonably popular venue for all manner of performance art and productions, not just opera. It was sold to D.K. Casson in 1923, whose estate donated it in 2001 to Stephen F. Austin University with the stipulations that the building be preserved, made available to the community and its use be associated with the arts. At present, it is home to the
Cole Art Center
, which includes three art galleries, regular poetry readings, and a Friday night film series.
Popular legend holds that the Marx Brothers discovered their talent for comedy while playing the Old Opera House in 1912.
While on their way to New Orleans by the Sunset Limited train in 1934, the Marx Brothers decided to visit the Old Opera House (the venue where their careers really took off) during an unexpected detour to Nacogdoches.[1] As they approached the Opera House, a storm began. The four brothers were struck by lightning, but they weren't killed.  When the lightning had passed, they found that they were no longer standing in downtown Nacogdoches. The buildings, including the Opera House, were all gone.[2]
References
Edit
Community content is available under
CC-BY-SA
unless otherwise noted.