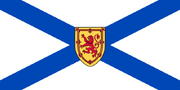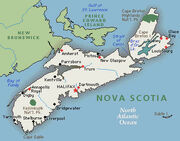 Nova Scotia is a province located on Canada's southeastern coast. It is bordered by New Brunswick to the west, Prince Edward Island to the north, and the Atlantic Ocean to the east. It is the most populous province in Atlantic Canada. Its capital and largest city, Halifax, is the major economic centre of the region. Nova Scotia is the second-smallest province in Canada with an area of 55,284 sq km (21,300 sq mi).
Part of Nova Scotia was overrun by the United States Army during the early portion of the Great War. It remained occupied after the war along with the rest of Canada.
New Scotland was a province of the North American Union.[1]
References
[
]
↑ Map The Two Georges, frontispiece. Prince Edward Island seems to be part of New Scotland as well. The print is very small, so there is room for debate.
The Two Georges

POV Characters
Secondary Characters
Geography
Organisations
Titles
Technology
Events