Nicholas Alexandria
Fictional Character

"The Maltese Elephant"


Set in OTL
Type of Appearance:
Direct
Nationality:
United States
Date of Birth:
Late 19th century
Occupation:
Criminal
Nicholas Alexandria was a boss of organized crime in San Francisco in the 1920s. He frequently worked together with Gideon Schlechtman. While the impulsive, violent Alexandria believed it was an equal partnership, the cunning, subtle Schlechtman was really in control of all their schemes and ventures.
Miles Bowman received a visit from Nicholas Alexandria just after the shocking murder of Tom Trencher, Bowman's partner in the detecting agency. Bowman already had a guest in his office - Claire Lenoir, who blanched at the mention of Alexandria's name. Alexandria entered the room and informed Bowman that Lenoir was in fact Gina Tellini, an unfriendly acquaintance of his. He then informed Bowman that he was there to talk about the Maltese Elephant, an animal of which Bowman professed complete ignorance. Not believing this, Alexandria pulled a gun on Bowman, but Bowman pulled a larger gun on Alexandria and got the drop on him, giving him a severe beating and then sending him away.
Literary comment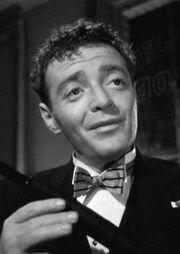 Nicholas Alexandria is based on Joel Cairo from The Maltese Falcon. Cairo and Alexandria are the English names for the two largest cities in Egypt. Moreover, Nicholas II and Alexandra were the last tsar and tsarina of the Russian Empire.
Community content is available under
CC-BY-SA
unless otherwise noted.