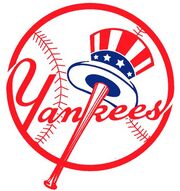 The New York Yankees are a baseball team from New York City. The club was founded in Baltimore, Maryland in 1901, and moved to New York in 1903.
In 1920 the Yankees purchased Babe Ruth from the Boston Red Sox and almost immediately became contenders, winning six league championships and three world championships in the 1920s. The Yankees would remain perennial contenders across multiple generations, having won championships in every decade except the 1980s and the 2010s since then. As of 2021, the Yankees have won forty American League championships and twenty-seven World Series titles.
Thirty-five Hall of Famers have worn their uniform, and they are almost invariably the top-grossing Major League team, both at home and on the road, year after year.
New York Yankees in "Batboy"

[

]
The St. Louis Browns played against the New York Yankees on September 9, 1917. Grover Lowdermilk pitched five innings, then he was pulled and Rip was allowed to pitch in his place.[1]
The New York Yankees were still an active team in 2219. Feyrouz Hanafusa, a Connecticut native, could not bring herself to root for the Yankees, even though the Boston Red Sox had been having a terrible season.[2]
The New York Yankees played against the Chicago Cubs in the 1938 World Series. A platoon of U.S. Marines were able to listen to Game 3 of the Series on the radio while stationed in Peking. After Yankee Joe Gordon went 2-4 with a home run and three RBI, Sgt. Pete McGill concluded that the game was sealed for Yankees, and correctly predicted that the 3-0 lead this gave them in the World Series would be insurmountable by the Cubs.
This bit of home came as some comfort to the Americans, as Europe and Asia were engulfed in what came to be called the Second World War.
New York Yankees in Worldwar

[

]
The New York Yankees were losing to the Kansas City Blues on the day that the Race destroyed Indianapolis and President Earl Warren committed suicide. The Yeagers were watching that game on television when news of the double-tragedy broke.
See also
[
]
References
[
]