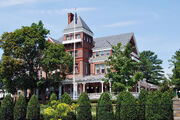 The New York State Executive Mansion is the official residence of the Governor of New York. Located at 138 Eagle Street in Albany, New York, it has housed 31 governors and their families. The Italianate building was constructed in 1856 as a banker's private home. Samuel J. Tilden became the first governor to reside in the house in 1875, and the state purchased it two years later.
New York State Executive Mansion in Joe Steele

[

]
In 1932, New York Governor Franklin D. Roosevelt was campaigning for the Democratic Party's nomination for President. While the Democratic Convention in Chicago repeatedly deadlocked between Roosevelt and Congressman Joe Steele of California, the Executive Mansion in Albany mysteriously caught fire. Governor Roosevelt (rendered immobile by polio 11 years earlier) could not get out of the building in time and he was burned alive. He, his wife Eleanor, and several members of the mansion staff were killed in the blaze.[1][2] With his primary opponent gone, Steele became the party's presidential nominee[3] and won the election against Republican incumbent President Herbert Hoover that November.[4]
References
[
]
Joe Steele
Works
POV Characters
Secondary Characters
Events
Geography