For the establishment named "Napoli" in "They'd Never--," see Napoli (restaurant).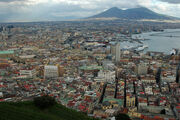 Naples (Napoli) is a historic city in southern Italy, the capital of the Campania region and the province of Naples. The city is noted for its rich history, art, culture and gastronomy, playing an important role throughout much of its existence; it is over 2,500 years old. It was the capital of a succession of independent nation-states, including the Kingdom of the Two Sicilies, before the unification of Italy in the 1860s. Naples is located halfway between two volcanic areas, the volcano Mount Vesuvius and the Phlegraean Fields, sitting on the coast by the Gulf of Naples.
During the iconoclast crisis of 1317, the Jews of Neaplis were blamed for creating the iconoclast doctrine. The Jewish quarter was plundered by loyalist rioters.[1]
Naples was Muslim-dominated city. It was a very rich city, envied by the Christians of the Kingdom of Versailles. It was also the site of a big slave market, where Christians captured in Muslim raids were sometimes sold.
Stella Morandini's parents immigrated to New York from a village just south of Naples.[2]
Victoria and the Gorgons had their base of operations in the vicinity of Naples.
Naples was a city with an ancient and honorable past, but it was being strangled by corruption and graft. In AD 2018, it was understood plainly that the Naples' police prefect Pietro Vaccaro was collaborating with Dino Crocetti, the city's leading boss of organized crime.
References
[
]
Joe Steele
Works
POV Characters
Secondary Characters
Events
Geography