Battle of Namsos
Part of World War II (The War That Came Early)

| | |
| --- | --- |
| Date | Winter 1939-40 |
| Location | Namsos, Norway |
| Result | German victory |

Belligerents
United Kingdom
France
Norway
Germany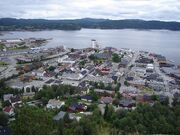 Namsos is a municipality in Nord-Trøndelag county, Norway. It is part of the Namdalen region. The administrative centre of the municipality is the town of Namsos. Other villages in the municipality include Bangsund, Klinga, Ramsvika, Skomsvoll, and Spillum. The municipality has a population of 12,906 and covers and area of 777.89 square kilometers (300.35 sq mi).
In the winter of 1939-40, Namsos was pummeled by German attacks. In spite of the determination of the British, French, and Norwegian defenders, the port town fell.[1] Afterwards, the Germans built up a U-boat base there.[2]
References
[
]