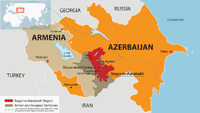 Nagorno-Karabakh is a landlocked region in the South Caucasus, lying between Lower Karabakh and Zangezur and covering the southeastern range of the Lesser Caucasus mountains. The region is mostly mountainous and forested.
Most of the region is governed by the Nagorno-Karabakh Republic, an unrecognized, de facto independent state established on the basis of the Nagorno-Karabakh Autonomous Oblast that was within the Azerbaijan SSR of the Soviet Union. The territory is internationally recognized as part of Azerbaijan, which has not exercised power over most of the region since 1991. Since the end of the Nagorno-Karabakh War in 1994, representatives of the governments of Armenia and Azerbaijan have been holding peace talks mediated by the OSCE Minsk Group on the region's status.
In the home timeline, the ongoing conflict between Armenia and Azerbaijan for control of the Nagorno-Karabakh region was taken to past the point of no return in the 21st century when an extremist group launched an artificial modified form of Ebola into the region. All human life in Nagorno-Karabakh was wiped out, as well as in adjacent areas of Azerbaijan, making them permanently uninhabitable and strictly quarantined.
The identity of the perpetrators remained unknown, as they were assumed to have themselves perished by the disease which they unleashed. For many decades afterwards, Armenians and Azeris continued to bitterly accuse each other of responsibility for the Nagorno-Karabakh Disaster.