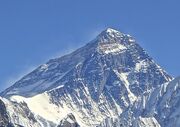 Mount Everest, also known in Nepal as Sagarmāthā and in Tibet as Chomolungma, is Earth's highest mountain. It is located in the Mahalangur mountain range in Nepal and Tibet. Its peak is 8,848 metres (29,029 ft) above sea level. It is not the farthest summit from the centre of the Earth. That honor goes to Mount Chimborazo, in the Andes. The international border between China (Tibet Autonomous Region) and Nepal runs across Everest's precise summit point. Its massif includes neighboring peaks Lhotse, 8,516 m (27,940 ft); Nuptse, 7,855 m (25,771 ft) and Changtse, 7,580 m (24,870 ft).
In 1856, the Great Trigonometrical Survey of India established the first published height of "Peak XV" at 8,840 m (29,002 ft). Eight meters were added to the official height by a 1955 Indian survey and subsequently confirmed by the Chinese in 1975. In 1865, the mountain was named by Andrew Waugh, the British Surveyor General of India, after his predecessor Sir George Everest, arguing that there were too many local names for consensus.
Mount Everest attracts many highly experienced mountaineers as well as capable climbers willing to hire professional guides. This history is fraught with peril; by 2016, there were well over 200 corpses still on the mountain, with some of them even serving as landmarks.
The 1924 expedition may have been the first to reach the top: George Mallory and Andrew Irvine made a final summit attempt on June 8 but never returned (until their bodies were found in 1999), sparking debate as to how far they progressed. Tenzing Norgay and Edmund Hillary in 1953 were the first to reach the top and survive the return descent. The Chinese mountaineering team of Wang Fuzhou, Gonpo and Qu Yinhua made the first reported ascent of the peak from the North Ridge on May 25, 1960.
When Alicia Gimpel learned that so much of what the Reich taught her was lies, she began even to wonder whether Mount Everest was really the tallest mountain on Earth. Since she had no way to travel there, she could not test the question.[1]
The summit of Mount Everest remained unconquered as of 1935, when two German climbers perished in the attempt.[2]
References
[
]