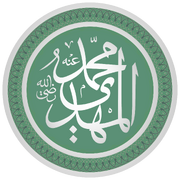 The Mahdi (ٱلْمَهْدِي), meaning "the guided one") is an eschatological redeemer of Islam who, according to some Islamic traditions, will appear and rule for five, seven, nine, or nineteen years (according to differing interpretations) before the Day of Judgment (yawm al-qiyamah, meaning "the Day of Resurrection") and rid the world of evil.
There is no direct reference to the Mahdi in the Koran, only in the hadith (the reports and traditions of Muhammad's teachings collected after his death). In most traditions, the Mahdi will arrive with 'Isa (Jesus) to defeat Al-Masih ad-Dajjal ("the false Messiah", or Antichrist). Although the concept of a Mahdi is not an essential doctrine in Sunni Islam, it is popular among both Sunni and Shia Muslims. Both agree that he will rule over Muslims and establish justice; however, they differ extensively on his attributes and status.
Throughout history, various individuals have claimed to be the Mahdi. These have included Muhammad Jaunpuri, founder of the Mahdavia sect; the Báb (Siyyid Ali Muhammad), founder of Bábism; Muhammad Ahmad, who established the Mahdist State in Sudan in the late 19th century; Mirza Ghulam Ahmad, founder of the Ahmadiyya movement; and Riaz Ahmed Gohar Shahi.
Shi'ites have alternate views on which descendant of the Islamic Nabi (Prophet) Muhammad is the Mahdi. Twelvers, who form the majority of Shi'ites today, believe that Muhammad al Mahdi who is the son of the 11th Imam Al-Hasan al-Askari is in occultation and is the awaited Mahdi. Tayyibi Isma'ili Shi'ites, including the Dawoodi Bohrah, believe that At-Tayyib Abu'l-Qasim is the current occulted Imam and Mahdi.
Shortly after the Jewish Messiah was presented to the world, the Islamic Mahdi was proclaimed as well.